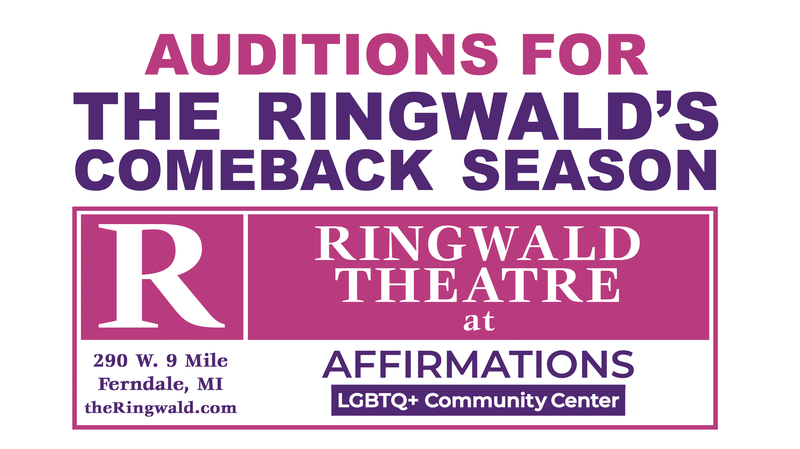 SIGN UP FOR YOUR SLOT:
Day 1 (Sun, July 25 11am-3pm)
https://bit.ly/Auditions-Day1
Day 2 (Wed, July 28 6pm-9pm)
https://bit.ly/Auditions-Day2
Auditions are here for The Ringwald's 2021/2022 Season!!!
They will take place over the course of 2 days, Sunday July 25 from 11am-3pm and Wednesday, July 28 from 6pm-9pm at The Ringwald's new home inside of Affirmations in Downtown Ferndale (290 W Nine Mile Rd, Ferndale, MI 48220).
AUDITION INFO:
All ethnicities and gender identities are encouraged to audition.
Actors are asked to prepare one monologue that they love (regardless of suitability of playing the role in real life) lasting no more than 3 minutes. If interested in auditioning for Ruthless!, also prepare 32 bars of a well-loved song (please bring well-marked sheet music, an accompanist will be provided).
All actors must be fully vaccinated two weeks prior to rehearsals beginning.
Video submissions will also be accepted. Please email your audition to theRingwald@gmail.com by Wednesday, July 28th.
The Ringwald Theatre commits to creating an inclusive, diverse, and equitable environment for any and all patrons, actors, creatives, and community members who interact with the theater. We stand with those who have been denied a voice and systematically oppressed, including those who identify as LGBTQ+, BIPOC, LatinX, or otherwise.
____________________
2021-2022 SEASON PRODUCTION INFO:
Puffs by Matt Cox
Directed by Joe Bailey
Oct. 15-Nov. 1, 2021
All roles have been cast.
____________________
A Very Golden Girls Christmas, vol. 2 by Dyan Bailey and Christopher Kamm
Directed by Dyan Bailey
Nov. 19-Dec. 20, 2021
The four Girls have been cast.
Two other roles are available, any race, any gender-identity.
____________________
Small Mouth Sounds by Bess Wohl
Directed by Kelly Komlen
Feb. 18-March 14, 2022
All Roles Available:
The Teacher: a disembodied, androgynous voice
Joan: late forties, therapist and sex educator
Judy: maybe fifty, Joan's partner, works at O Magazine
Alicia: twenties/thirties, strawberry blonde from Southern California
Ned: somewhere in his forties, has had a severe run of bad luck
Rodney: twenties/thirties, ageless, fit, gorgeous. This role includes nudity.
Jan: forties/fifties, from a small town in Finland, pale and sweet.
____________________
Bootycandy by Robert O'Hara
Directed by Dan Johnson
May 6-May 30, 2022
All Roles Available:
Actor One: Black woman, 20-30
Actor Two: Black man, 20-30
Actor Three: Black woman, 30-40s
Actor Four: Black man, 30-40s
Actor Five: white man, 20-40
____________________
Ruthless! The Musical book and lyrics by Joel Paley, music by Marvin Laird
Directed by Brandy Joe Plambeck
July 8-August 15, 2022
The roles of Judy Denmark, Tina Denmark, and Sylvia St. Croix have been cast.
Available Roles:
Myrna Thorn/Miss Block: the third grade drama teacher in Act 1 and a sleuth thespian reporter in Act 2 (mezzo belt)
Louise Lerman/Eve: the girl who gets the lead in the third grade play and becomes Tina's first victim; Ginger's assistant; belt.
Lita Encore: mezzo; a drama critic and Tina's grandmother